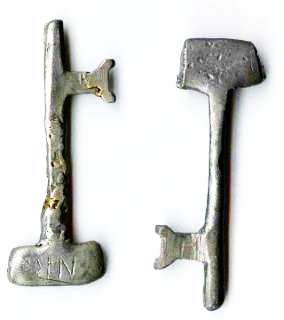 KEEPER OF THE KEYS

John Risley May 1, 2001

Voices crying aloud were heard about,
The hearts of creatures wailing at the door,
Lamenting the sweet life that is in doubt
As change is thrust upon their lives and more.
Comfort from their very grasp is torn,
Complacency wrenched from their very soul,
Eyes glazed from the fatal wound now mourn
The past . . . recite the many tales of old,
Of poverty and toil with naught but heart
To take the pain of mourning realm
Somehow adrift and ever more apart.
A new officer of fate's now at the helm.
The Officer supreme stands - a rare mould
Crowned with stately garlands, hopes and dreams,
Would flood the towns with wondrous rivers bold,
Visions of dazzling days and sweet moonbeams.
Succumbing to the shelter of virtue's laws
He sat and watched the universe unfold,
Wrested the coveted prize from tight-shut jaws.
So did the citizens of Newfoundland behold
Their lives becoming now entwined and blended
In flowing streams of dashing forward motion
Within the chosen circle bold and splendid.
What's Destiny but life's own magic potion?

© by Audrey Manning 2004

Audrey Manning from St. John's, Newfoundland, whom the Editor of SONNETTO POESIA has known for over 3 years, contributes this deeply moving lyric poem to the current issue.