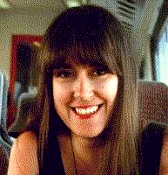 Hi!  I'm Sara L. Russell.  I am an English E-Zine editor, cartoonist, poet and
fiction writer.  My Newsgroup signature was originally 'Pinky Andrexa, Last
Of The Cyber Vixen Poets From Outer Space'.

I enjoy reading poetry, science fiction, and I have been variously influenced
by the likes of Oscar Wilde, Rudyard Kipling, Dylan Thomas, Edgar Allen Poe,
Edward Lear and the sci-fi writers John Wyndham, Michael Moorcock, as well
as the horror/fantasy writer Clive Barker.



Poetry Life and Times was, like the original Café Society (Website) set up
to promote poets and poetry, and to help poets to get published.
It still has those aims today. 



Awards

 
Café Society won the Internet Arts Award from Kedco Studios Artist Profile
Press (UK & USA: Editor, Elaine Davis), and was runner up in the Capricorn
International Love Poetry Competition 1998.  The site Poetry Life & Times
recently won the Alpha Poets' Poetic Eyes web award, Poet of the Week
in the Poetry For Thought Group (Globe groups) for the poem,
"If you were mine", in May, 2001. 



---





Sara's Published Works

A. On CD-ROM:


1. First published work: 

Pinky's Little Book of Shadows, the first CD ROM
by Kedco Press to feature video recitals.

2. Second e-book: Life, Time, and the Golden Life Time And The Golden
Hour of Sleep, in the collaborative CD Collection , A Way with Words:
Poetry Real and Surreal.

3. SPIDERS AND GLIDERS, an adult illustrated science fiction novel with 3-D
 illustrations, animations and Sara's own music.  Also features a collection of
10 poems by the cult internet poet,  The Potato of Terror, The Lost Book
of Tuberlantis. 

4. QUICKIES, released both on CD and in hard cover, and replete with mischievous
erotic short stories for women, written for Kedco Artist Profile Press in collabor-
ation with a writer friend in California, Patricia DiMiere.
 
Through these CDs, Sara has become more deeply involved in art, video/audio
recital and music of e-books, as well as poetry, and has come to style herself as an
all-round multimedia poet looking forward to the daunting challenges of our 21st.
Century and the Third Millenium.  Sara eagerly anticipates being able to offer
a little advice and succour to other similar-mind poets on the same wave length
on some of the technicalities involved in multimedia.



---




B. On the WEB:


Sara's work has appeared online in the E-Zines and WEB poetry sites, 
Curiouser and Curiouser, Aylad's showcase and Phantom Fantasy.



---




C In Print:




Her poems have also been featured here and there in the paperback anthologies of
Forward press, England, under their various imprints, including Anchor Books
and Triumph House.



---

 
D. Music:
Sara has recently branched into rock music journalism with a new website called
The Rock Garden, in which she has interviewed Gary Stringer from the rock group
Reef, and is hoping to get similar e-mail interviews with other bands this year.

Richard Vallance, June, 2002
You may visit Sara at her E-Zine:





I was born in the deep recesses of the earth, at a time before Continental Drift.
Now I live in a deep pit, a humble abode, alongside the M3 motorway in England.

Few are my visitors, which provides me the peaceful conditions in which to
write my poesie.  Occasionally small, lumpen men rise out of adjoining tunnels to
pummel me with lengths of lead piping. 

My life consists of scribbling my poetry, zapping it onto Usenet and Yahoo groups,
such as Describe_Adonis and  Loonatic_Fringe_Poetry, or reading Proust and Plato,
or cavorting in bizarre PVC attire, or occasionally head banging, potholing and
scumble-glazing my knees.

Maiden aunts have cried, birds have fallen out of trees, and strong men have fled
upon reading my work. But when the chips are down, the stronger spud keeps writing...

My website:

The Potato of Terror
(Click on one of the spuds!)

 has been awarded the Three-Toed Elvis Duck Award for weirdness, by Heidi Stephens,
the kindly editor of Curiouser and Curiouser.  Some of my work was recently published in
Spiders And Gliders, an e-book by Sara L. Russell, published by Kedco Studios Artist
Profile Press.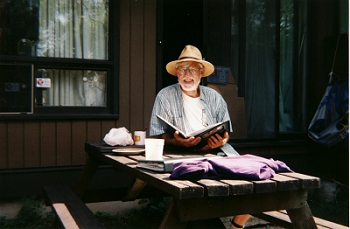 Richard Vallance, the Editor of 

Sonnetto Poesia, is a bilingual Canadian
poet age 57, has been the Editorial poetry critic for Sara Russell's UK E-Zine,
Poetry Life and Times, since  August, 2001, when Sara began running the regular
monthly Vallance Review.  Richard has critically reviewed both historical and
contemporary sonnets, by such poets as Thomas Wyatt (Renaissance English),
Capel Lofft (Romantic English) and Mathilde Blind (Victorian English), Archibald
Lampman (19th. Century Canadian sonneteer], as well as such latter-day sonneteers
as Jim Dunlap and Deborah P. Kolodji (USA), MIR and Sara Russell (UK).


---





PUBLICATIONS:




Richard's poetry: sonnets, quatrains, blank verse and haiku, have been extensively published:



A. on  the WEB:

- in such internationally acclaimed E-Zines as:

1. Poetry Life and Times (UK)
2. Autumn Leaves (USA)           - and many others.



---





Other published works:


B. in print:

Vallance, Richard.  A Quilt of Sonnerts: Forty Four Familiar Poems.  Ottawa, Ont.:
Providence Road Press, © 1998.  ISBN 1-896243-07-x   56 pp.

C. on CD-ROM:

2. Kedco Studios Press (Elaine Davis, editor) has published several of Richard's sonnets
in the CD-ROM book,  Millenium Dawn Anthology of Poetry, which also features the
poetry of other poets emerging onto the international stage, such as: C. S. Snow
(Richard's good friend  from San Diego), Joyce Tres, Ian Thorpe, Mary Hunt,
Robin Hislop, Cara Alson and others.

Kedco Studios.  Millenium Dawn (Anthology).  © 2002.  ISBN 1-878431-38-2

3. Kedco Studios. [In the works: scheduled for publication in 2003]
   
   Canadian Spirit Voices: an anthology of the poet's works, including:
   1. sonnets, quatrains, haiku and  blank verse in both English and French,
   2. translations of ancient Greek and Latin poets: Alcman, Alcaeus, Sappho
      Catullus and Horace,
   3. translations of sonnets by the illustrious French poets, Pierre de Ronsard,
      Stéphane Mallarmé, Gérard de Nerval, Arthur Rimbaud and Paul Valéry (France)
      and Émile Nelligan (Canada) and
   4. An essay on the historical evolution of the sonnet from its origins in Thirteenth
       Century pre-Renaissance Italy, through to the Renaissance, the Cavalier poets
       of 17th. Century England, the Romantic movement, Victorian and post-Victorian
       sonneteers and early Modern and Modern poets, all the way to contemporary
       21st. Century sonneteers and the latest innovations in the sonnet's continually
       evolving forms, incuding recent trends towards multi-media sonnets with
       accompanying graphics and even music!

Canadian Spirit Voices will be accompanied by multiple graphics and music.
       It is highly probable that both Sara Russell and Scott Snow,  who are both musicians
       in their own right, along with Richard's personal Friend in Ottawa, Peter Zanette
      (also a fine and dedicated musician), will be intimately involved in and credited with
       the production  of this exciting New Millenium Anthlogy!



---





POETRY GROUPS


Richard also hosts several poetry groups on Yahoo, all of  which may be reached from
his Carousel Poetry Home Page: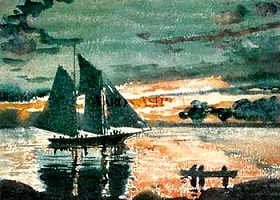 Winslow Homer. We're sailing off into the wild blue yonder!